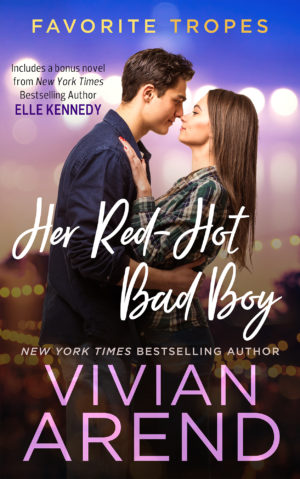 Book 10: Favorite Tropes Collection
Two stand-alone stories about finding a second chance at love (with three people!) Enjoy heart-warming romances within this favorite trope, and find the happily-ever-after you crave.
Getting Hotter (Out Of Uniform)
by New York Times Bestselling Author Elle Kennedy
Miranda Breslin got over her attraction to bad boys when one of them knocked her up at the age of eighteen. Still, SEAL Seth Masterson's mocking gray eyes and military-buff bod are pure and utter temptation, and when a flooded apartment forces her and her twins to move in with him, resisting the urge to set off some serious fireworks between the sheets is impossible. Miranda knows this is strictly physical—and temporary. But when Seth decides permanent is what he wants, falling in love is on the line.
Rocky Ride (Thompson & Sons)
by New York Times Bestselling Author Vivian Arend
Mitch Thompson is a bad boy through and through, but his ongoing fling with Constable Anna Coleman is speeding toward something bigger than expected. Anna is loving the chance to let her wild side out to play, but giving in to more and more illicit desires could endanger her very civilized career on the police force. And while their secret escapades are steamy and mind-blowing, Mitch has discovered he wants more than her body—he wants her heart.
These books have been previously published, and are being re-released in this special edition version for a limited time.