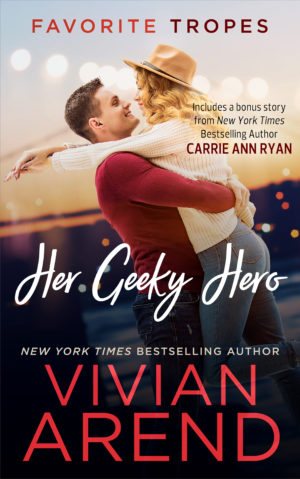 Book 6: Favorite Tropes Collection
Two stand-alone stories about falling in love with a brilliant-minded man. Enjoy heart-warming romances within this favorite trope, and find the happily-ever-after you crave.
Written in Ink (Montgomery Ink)
by New York Times Bestselling Author Carrie Ann Ryan
There's nothing worse for a writer than missing a deadline. When Griffin Montgomery's sisters hire him a new personal assistant, he'll have to get his head on straight because no amount of dictation will be able to hide his true self from her. Autumn Minor is light on her feet and a bare memory for most people she meets because it's is the only way she's survived this long. Only when she meets Griffin with his head in a book, she's afraid she won't be able to let go when it's time to run.
Turn It Up (Turner Twins)
by New York Times Bestselling Author Vivian Arend.
Maxwell Turner has his eyes set on Natasha, but the woman who is ten years older than him keeps resisting his charms. Natasha is tempted even though she's been burned enough to know that men don't stay. When Max discovers what she really wants is a baby, he volunteers to help. But there's one non-negotiable clause: He wants forever. And he intends to do everything in his power—fair and unfair—to make it happen.
These books have been previously published, and are being re-released in this special edition version for a limited time.