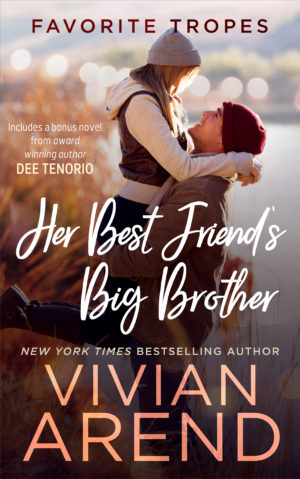 Book 8: Favorite Tropes Collection
Two stand-alone stories where love is forbidden—or is it? When he realizes his younger sister's annoying tagalong friend isn't so little anymore… He's got to keep his hands off, but she has some ideas of her own! Enjoy heart-warming romances within this favorite trope, and find the happily-ever-after you crave.
Yearning Hearts (Rancho del Cielo)
by Award Winning Author Dee Tenorio
The siblings Locke Jackman raised have all grown up. Now, there's no one around to distract him from his sister's best friend. The woman who—after a single night of blistering passion—refuses to have anything to do with him. Susie Packard's terrible past taught her to rely only on herself. If only she could trust Locke with the most important secret of both their lives. But doing that would mean baring her other secrets, secrets that could tear them apart before they have a chance to begin…
One Sexy Ride  (Thompson & Sons)
by New York Times Bestselling Author Vivian Arend.
Len Thompson only wants one woman—his little sister's best friend—but he's been careful to keep his hands off. Janey deserves more than he can give. When he discovers her plans to leave town, though, all bets are off. Suddenly working to meet the deadline for her move is not nearly as interesting as enjoying steamy escapades with the sexy mechanic Janey's always desired. Only it's a relationship built on sand, and Len must finally choose—face his past or let their future crumble.
These books have been previously published, and are being re-released in this special edition version for a limited time.