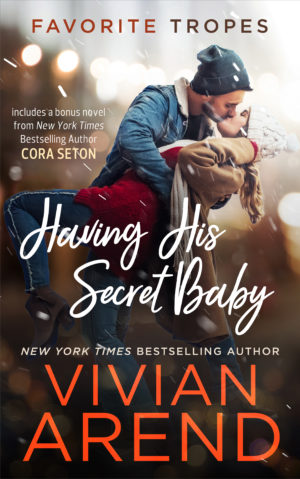 Book 9: Favorite Tropes Collection
Two stand-alone stories about accidental pregnancies that finish with a perfect ending. Fall in love with heart-warming romances with this favorite trope, and find the happily-ever-after you crave.
A SEAL's Consent (SEALs of Chance Creek)
by New York Times Bestselling Author Cora Seton
Savannah Edwards came to small town Chance Creek to chase an abandoned dream, but when a passionate encounter with sexy Navy SEAL Jericho Cook leaves her pregnant, everything changes—especially since Jericho's experiences overseas has left him reluctant to be a father. Can she persuade the SEAL to give fatherhood a chance?
Ride Baby Ride (Thompson & Sons)
by New York Times Bestselling Author Vivian Arend.
A freak accident on a storm-swept road leaves Katy Thompson with a memory full of holes—and no idea how the little pink "positive" on the pregnancy stick got there. Then Gage Jenick returns from his out of town job to discover his best friend's sister has no memory of their unforgettable night together, or his promises for the future. Can he convince Katy he's the one she and her baby need forever?
These books have been previously published, and are being re-released in this special edition version for a limited time.