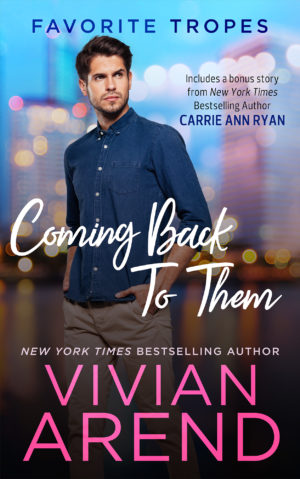 Book 12: Favorite Tropes Collection
Two stand-alone stories about finding a second chance at love (with three people!) Yes, this is a menage with a HEA. Enjoy heart-warming romances within this favorite trope, and find the happily-ever-after you crave.
Ink Enduring (Montgomery Ink)
by New York Times Bestselling Author Carrie Ann Ryan
Tattoo artist Maya Montgomery truly never thought she'd fall for her best friend, Jake Gallagher. Other than one night of temptation, they've kept their relationship platonic—despite the long glances neither one notices the other one doing. It isn't until Jake's ex-boyfriend, Border Gentry, shows up that Maya realizes not only what she might lose, but who she might gain if she takes a second chance…on both.
Rocky Mountain Freedom (Six Pack Ranch)
by New York Times Bestselling Author Vivian Arend.
Travis Coleman had given up on love, and thinks his dangerous cravings can never be met. Cassidy Jones and Ashley Sims have different reasons to want to avoid him, and yet both long to be with Travis. As the summer passes, and the trust and passion between them rises, they finally have to ask if they're brave enough to reach for a happily-ever-after for three.
These books have been previously published, and are being re-released in this special edition version for a limited time.