It's time! The start of something fun and light-hearted, with friends to lovers and family and polar bear shifters!
I hope you enjoy reading Kaylee and James's adventure on the way to forever. And remember books 2 & 3 are up for preorder so you don't miss a single bit of the match-making mischief happening in the Borealis Bears clan!
He's going to accept his fate—but only with the woman he chooses!
 Youngest brother James Borealis figures if he has to get mated, it should be with someone he already knows and cares about—his best friend Kaylee. But when the mating fever hits, she's still stuck in friendshipland while he's ready to move all the way to true love and forever.
Kaylee has heard about polar bear mating fever, but while James has held the starring role in her fantasies for a long time, she's not about to leap into a permanent relationship that's all wrong for him. He's the PR powerhouse for Borealis Gems while she's a quiet bobcat shifter with massive family baggage. He loves the spotlight; she wants to hide in quiet corners.
But mating fever knows best, and when the storm settles, there's no use in arguing with a polar bear's choice.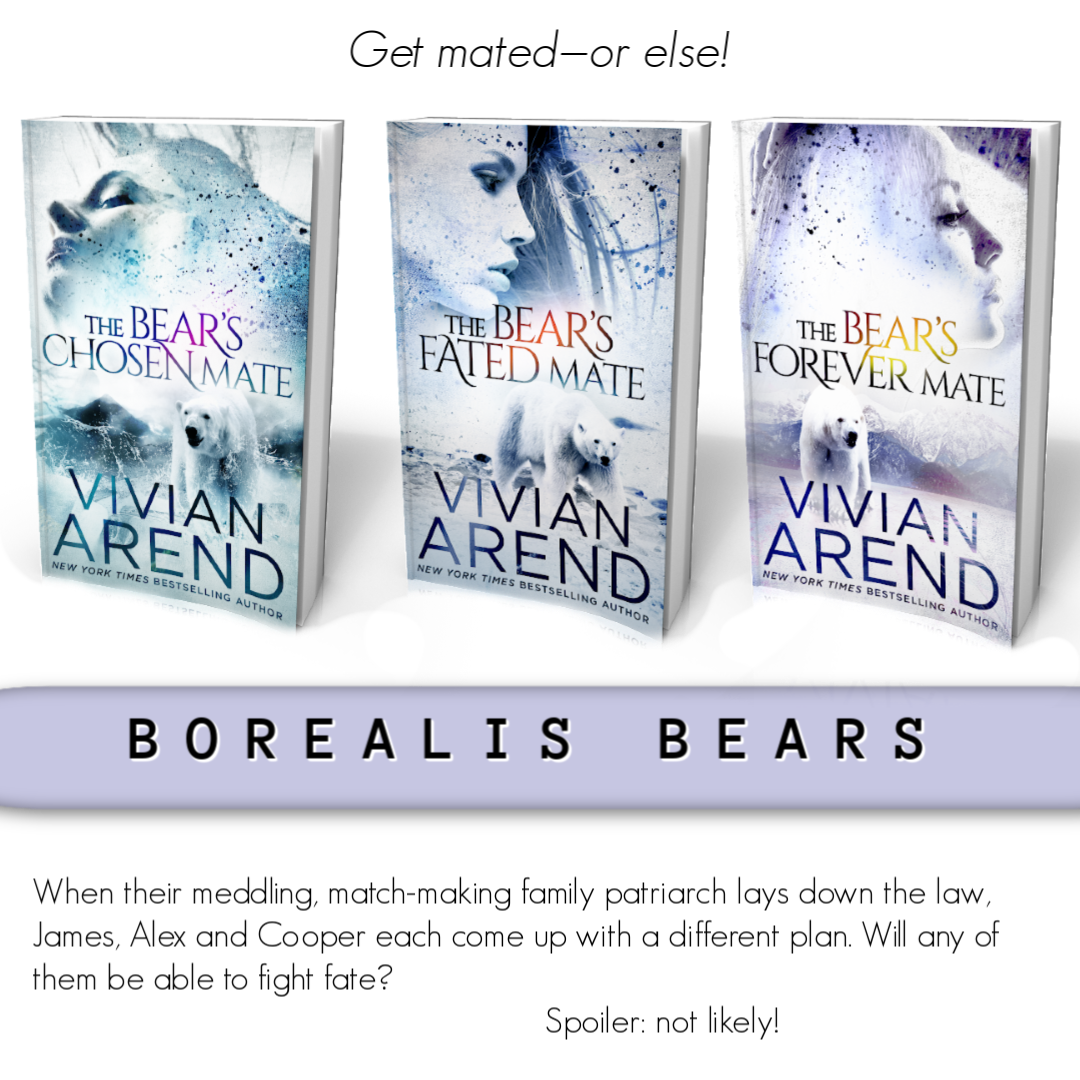 Purchase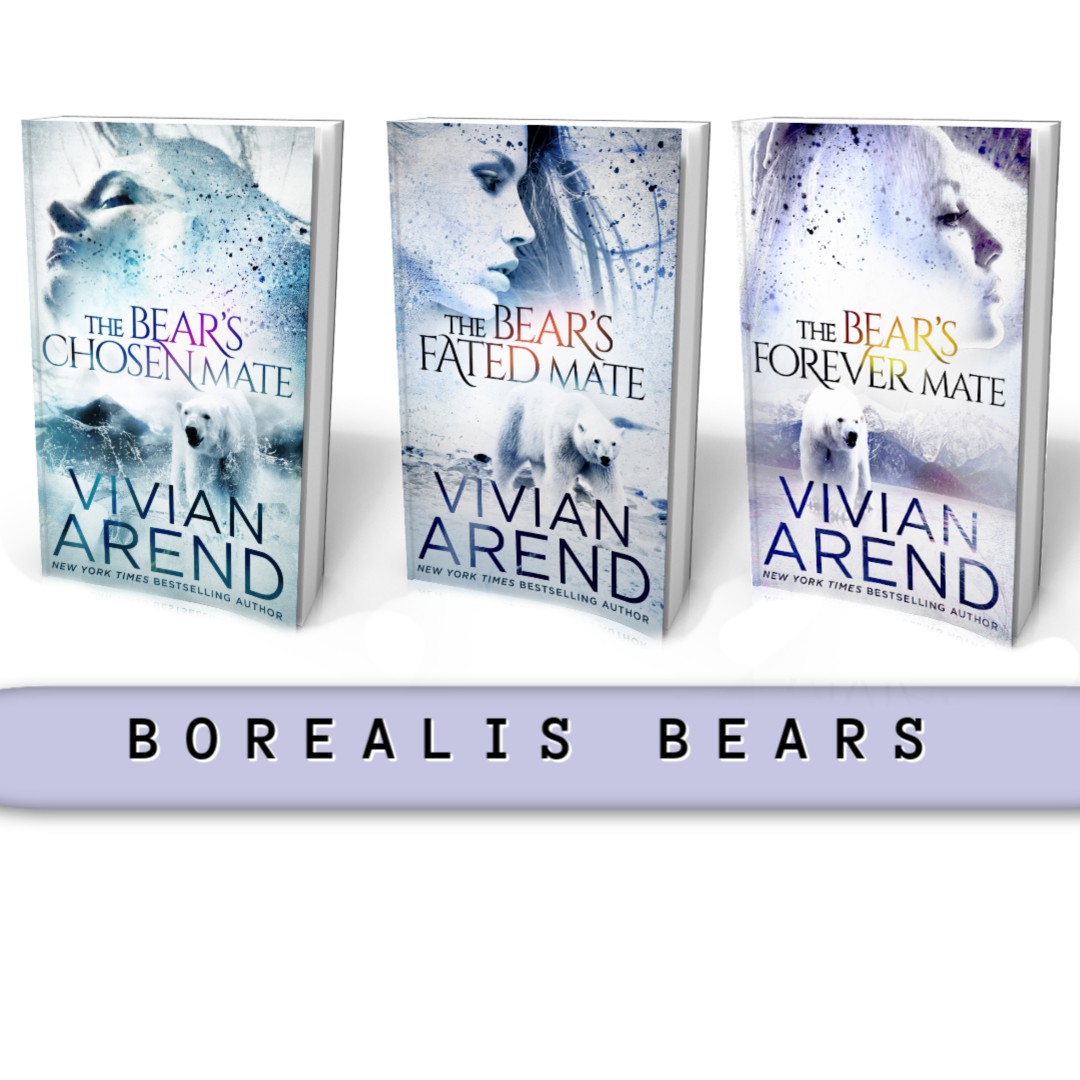 While I adore writing the Heart Falls contemporary western series—and I have more of them coming!—I wanted the WOW fun of writing a paranormal series once again.
So I did! I'm very, very excited to tell you about them.
The trilogy is Borealis Bears. I think I mentioned this idea in passing once before, and at that time we were tossing around a different series title that involved shifters and matches, but this is simpler to remember!
Book 1 will be out in August, book 2 in November, and book 3 in February. And to make it even simpler, the entire series is ready for preorder, beginning with The Bear's Chosen Mate, August 20!
Excited? Here's what's in store. I hope you enjoy these sexy shifters as they deal with their interfering grandpa, and fate, best they can!
Welcome to the BOREALIS BEARS trilogy
Get mated—or else! 
When their meddling, match-making family patriarch lays down the law, Giles Borealis' three polar bear shifter grandsons agree to follow his edict. Only James, Alex and Cooper each have a vastly different plan in mind to deal with their impending mating fevers.
Will any of them be able to fight fate?
Spoiler: not likely!
 ~*~*~*~*~*~*~*~*~*~*~**~*~*~*~
From the Desk of Giles Borealis, Sr.
DATE: March 21
TO:
Cooper Borealis
Alex Borealis
James Borealis
My dearest grandsons,
Before the year is done, I'll celebrate my eighty-fifth birthday. I know you're all eager to find me the perfect present. I have to say up until now, you're the best presents I could ever have gotten. You've grown up smart and strong, with real business savvy and enough cutthroat ambition to make me proud. Borealis Gems is thriving because of you.
You're also the most pigheaded and obstinate jackasses I've ever had to deal with.
Telling me you want to focus on business and that finding a mate can wait sounds impressive, but we all know that's a load of crock. It's damn-well time you got your butts in gear. I want to hold my great-grandbabies before I die, a sentiment your grandmother fully endorses, as do your parents—even though they're out of the country at the moment.
Stubborn fools that you are, for years on end you've resisted the mating fever when it's hit. Enough of that nonsense.
There are nine months until my birthday. That's how long you have to pick a mate, boys, or come New Year's Eve, I'll arrange to sell my shares of Borealis Gems to Midnight Inc., and none of us want that, do we, now?
When mating fever hits this time around, you decide. You can make an old man happy, (and your grandmother—don't forget Nana!) take full ownership of a multibillion-dollar corporation, and have the time of your life with a forever mate…or you can throw it all away. Your choice.
Don't make it a stupid one.
Regards,
Your long-suffering grandfather,
Giles Borealis, Sr.
---
Pre-Order THE BEAR'S CHOSEN MATE today!
US:  Kobo ♥ Amazon ♥ Nook ♥ Apple Books
UK: Kobo ♥ Amazon ♥ Apple Books
Canada:  Kobo ♥ Amazon ♥ Apple Books
I am so excited to announce that A Soldier's Christmas Wish is up for pre-order! The second book in the Holidays in Heart Falls will release October 15th.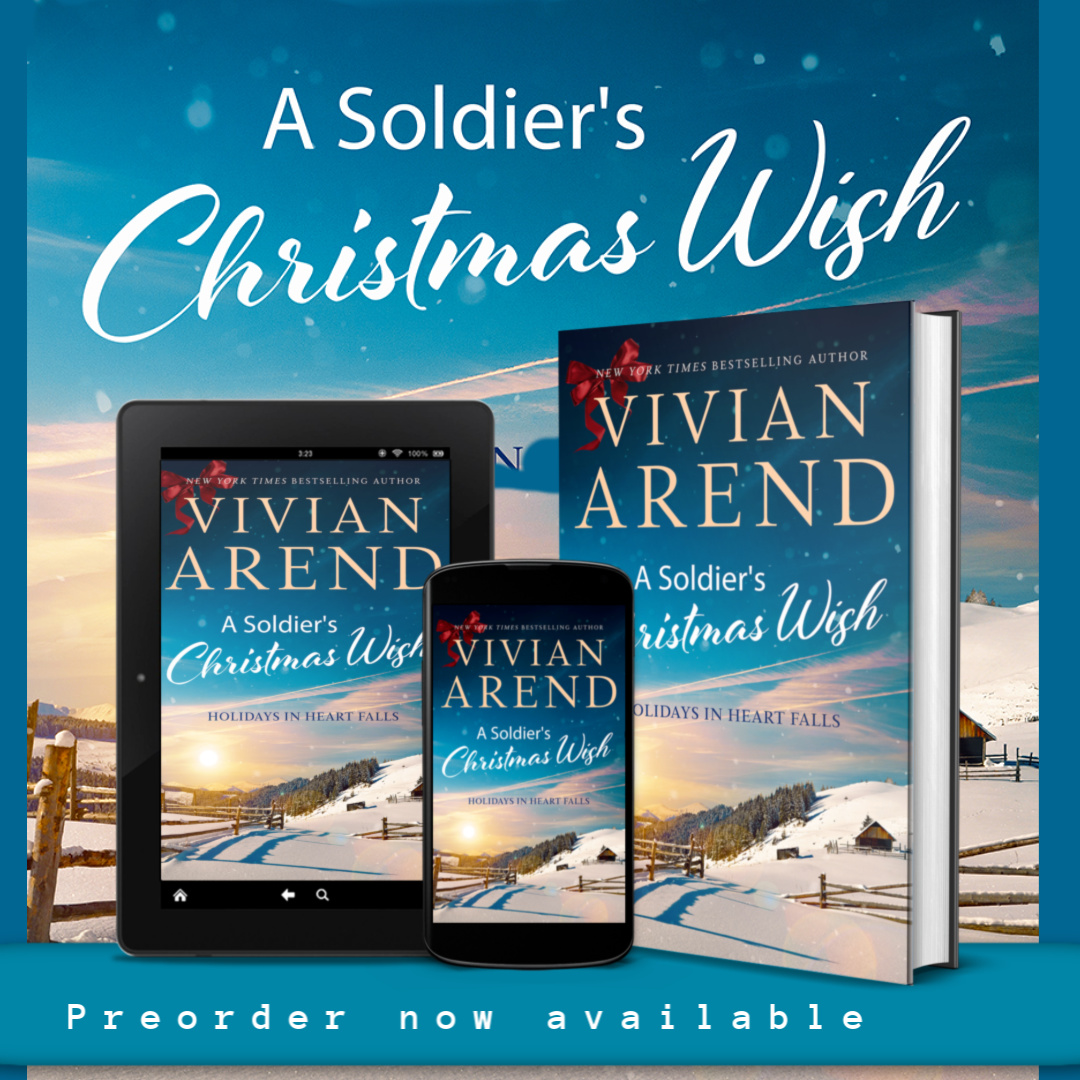 You can pre-order the book now at your favorite retailers:
It's their turn.
The Whiskey Creek women, of course.
It's been a long time coming for them to find their happily-ever-afters, and this author is very glad to finally dive into the series that completes ALL the Coleman family stories.
If you're new to my books, this is a bit of history, and you don't need it to enjoy The Colemans of Heart Falls. I've made sure the new stories are completely stand alone, but if you're interested where the rabbit hole began, read on!
When the Six Pack ranch started in 2009 (or 2011 when it was re-published at Samhain) the original idea was to have five books in the series. Then I realized that, while it was a big family, I couldn't bear to not find true loves for ALL the cousins.
Only one problem. When the dust settled there were 6-Six Pack brothers, 4-Moonshine siblings, 2-Angel brothers, and 3-Whiskey Creek sisters, which meant there were 15 Colemans and would be 15 books in the series.
That's a big bite for anyone!
So even though I'd already given thought to what was going to happen in Karen's story, and planted the seeds in Six Pack Ranch book 6 (Rocky Mountain Freedom) I made the executive decision that series would be all about the boy cousins.
Anna (Moonshine) Coleman found her love in the spin off Thompson & Sons series.  Tamara (Whiskey Creek) Coleman finally got hers in A Rancher's Heart.
And now there's a new trilogy to complete the Coleman saga, and what a journey it's been! You could re-read the previous series if you want glimpses of the Whiskey Creek women. But if you want to sit back and wait, let me assure you that Lisa and Josiah are one of my favourite couples to date. Josiah's definitely a cinnamon roll hero (ie sweet and delicious and would do ANYthing for his woman), and Lisa could be my bestie, and the two of them together make me smile.
There will be more of the friends you met in Heart Falls, and a sweet puppy named Ollie, and a baby, and definitely some surprises.
I'm looking forward to you starting this new adventure with me as love comes to Heart Falls once again!
The Cowgirl's Forever Love releases May 21st!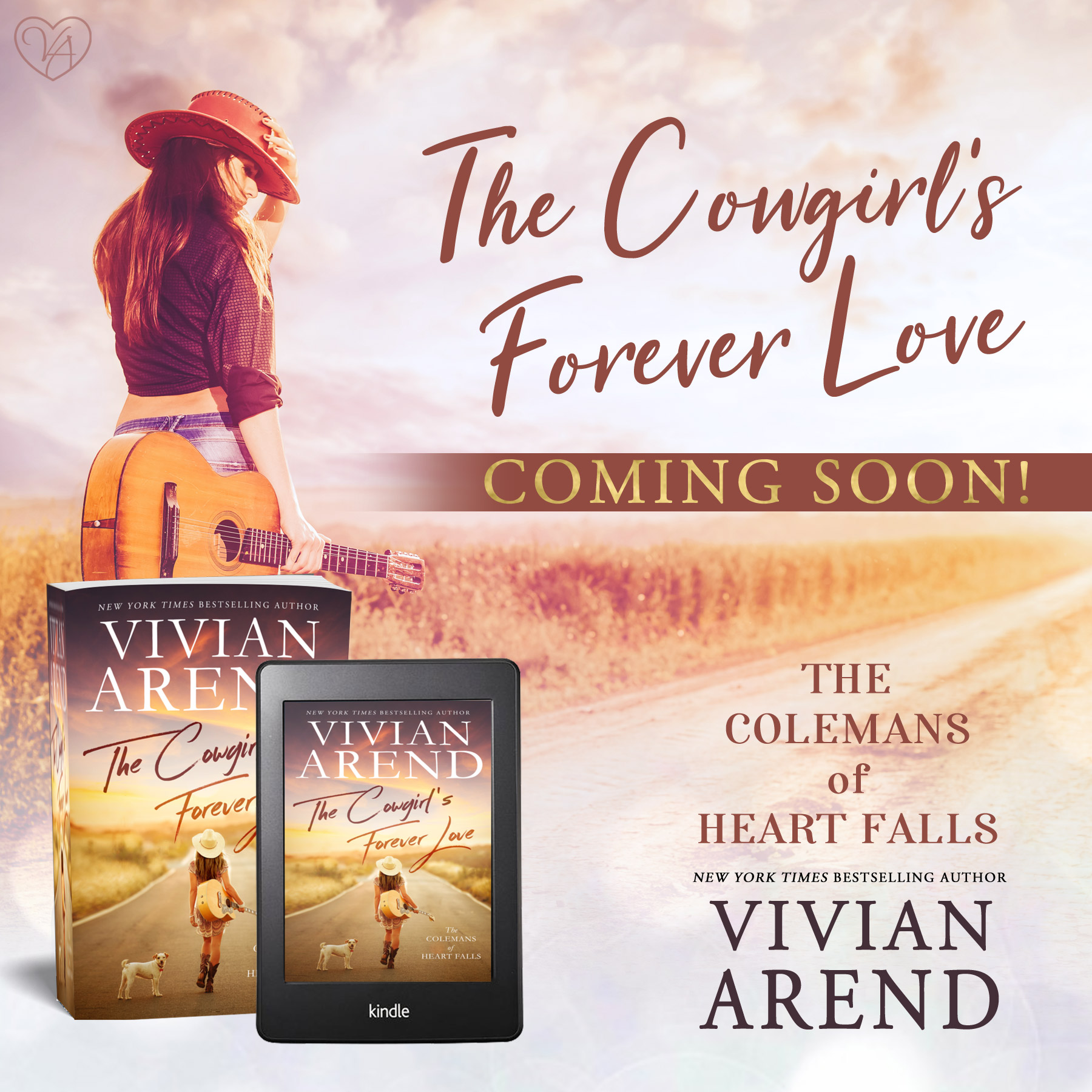 As things in publishing change, so too does my backlist of available books. For your convenience and information, I wanted to compile a list of books that are no longer available for purchase. 
Stormchild, Stormy Seduction, Silent Storm: The Pacific Passion series was written as serial novellas, and each individual story is no longer available for purchase. However, you can get the entire series as a box set in Pacific Passion: Books 1-3. 
Tangled Tinsel: This fun, short holiday book was published in conjunction with two other authors as part of a winter wonderland box set. If you would like to read it, it is still available for a limited time as an audiobook in Winter Wishes. 
Claiming Derryn: This science fiction romance was written with Ellora's Cave, and my first and only foray into a space opera romance. 
Peerless, Faetful: The Falling for Fae series was co-written with Celia Kyle, and has been out of print.
Fired Up: This was another project co-written with Celia Kyle and was part of a larger series written by multiple authors. 
The Wind and The Sun: This story was a retelling of an Aesop's Fable.
Soul Deep: A very short soul mates story.