I have news!!
ROCKY MOUNTAIN FOREVER (SIX PACK RANCH BOOK 12)
*cheers along with you* Yes, it's coming. For those of you constantly haunting my inbox for updates, my assistant Nic will no longer tell you "when the time is right, we'll let you know!"
The time is right.
I've finally written the book that takes us back to Rocky Mountain House to revisit the entire Coleman clan. You'll catch up on what's been happening with your favourite characters, and who's up to what mischief in the community.
We won't be the only ones returning. It's time for Mark Coleman (Uncle Mark) to find a way back to the family, and to his happily-ever-after.
The cover? Hmmmmmmm!!
Timeline for the story: a slight overlap with the end of The Cowgirl's Chosen Love, and with Lisa and Josiah's short story, covering nearly a year and ending just before Canadian Thanksgiving. The book will be available in ebook, audio and the print version will include the vignettes found in the ebook ROCKY MOUNTAIN VIGNETTES.
I hope you're ready to celebrate this story with me. Be sure to let your fellow Six Pack reading friends know that ROCKY MOUNTAIN FOREVER is on the way!
Release date: February 16, 2021
---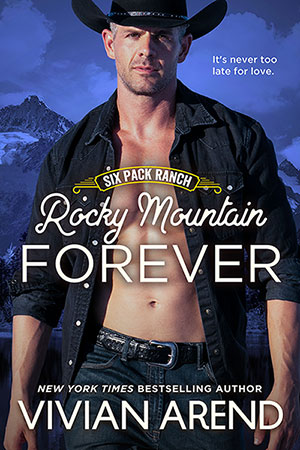 A return to the bestselling SIX PACK RANCH series by New York Times Bestselling Author Vivian Arend. While this book contains a stand-alone romance, it's best read as a part of the series.
——-
It's never too late for love.
Years ago, Mark Coleman made the only possible choice and left Rocky Mountain House before he tore his family apart. When he hears the four clans—Six Pack, Whiskey Creek, Moonshine and Angel—are working together to create a memory book, Mark also discovers the one detail that finally triggers his return.
Because he's not just coming back to the family. Now that Dana is free and ready to move on, Mark plans to give the only woman he's ever loved all the devotion and happiness she deserves, no matter how much sweet-talking, or dirty talk, it takes.
Meanwhile, when a shocking truth is shared with the oldest of the Six Pack sons, Blake Coleman begins a journey of assessment. Can he really fill his father's boots and be the leader his generation turns to for guidance?
With lots of visits with all your favourite Colemans, this is a celebration of love and the lessons learned along the way.
Warning: this book is full of happily-ever-afters. Lots of I love yous, lots of babies, lots of laughter and happy tears. Pretty much, readers familiar with the series have a ton of feel-good hours of reading ahead. If you want angst—this isn't it.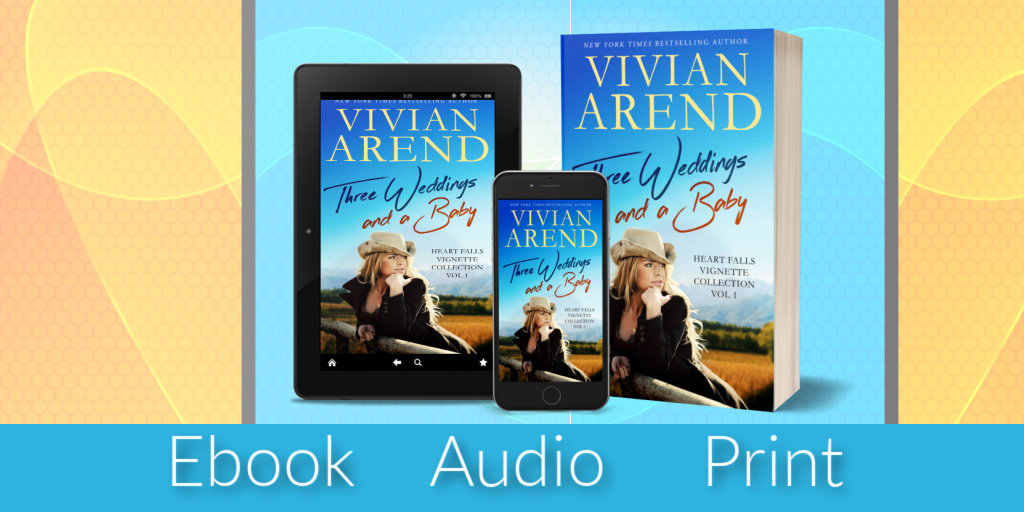 I know this is a collection and not a full novel, but I ADORED writing another story for Lisa and Josiah, and I can't wait to share it with you! It's a one hundred percent feel good, enjoy the smile on your face, adventure.
After this, we'll be headed to the holidays and some other special announcements, but for today, take a break and fall into a continuing happily-ever-after.
Here's a fun excerpt for you with Lisa heading over to Karen's for a visit, and ending up with some quality time with a certain dog and a cat!
**
Lisa knocked on the door then let herself in. "Karen?"
No answer. She checked her phone to find a message.
Karen: Sorry. Had to run over to Tamara's to grab something. Make yourself comfy. I'll be right back.
Lisa didn't bother to respond. She took her sister at her word, and after rummaging in the refrigerator to grab an iced tea, she settled on the couch next to where half the contents of a box was already spread over the coffee table.
Ollie jumped up beside her, followed immediately by the sweet white kitten by the name of Dandelion Fluff. Dandy and Ollie touched noses before the kitten firmly made his way into Lisa's lap. He stretched for a moment, his little pink nose wiggling.
Lisa brushed two fingers down the back of his head. "Well, aren't you cuddly today?"
Dandy curled up directly on top of her stomach, a small, round bundle of fluff. An instant later, Ollie had settled in as well, torso draped over Lisa's thighs so she could rest her chin on the back of the cat and still crack open an eye every now and then to make sure her human wasn't going anywhere.
Lisa snickered at discovering she was trapped. The coffee table was only a foot away, but there was no way to grab anything off it without disturbing the very relaxed creatures in her lap.
"Well, I suppose that's one way to make me take some R & R." Lisa eased her head back on the couch and took a deep breath. The peaceful quiet of Karen's home surrounded her, with nothing but a grandfather clock ticking somewhere in the background.
Unbelievably, she must've fallen asleep, because the next thing she knew, Ollie had gone off again. For a well-behaved little dog, the creature had suddenly decided to exercise her vocal cords far more than Lisa thought appropriate.
Ollie's bark went off in Dandy's ear. The cat leapt skyward, an annoyed yowl escaping him. He landed on the floor, shooting to the side of the room as Ollie jumped off the couch as well, beelining instead for the front door, where Karen stood.
"Ollie. Be quiet." Lisa attempted to blink herself awake.
Karen glowered at the barking dog as if she'd discovered a pile of poop instead of a pile of pup at her feet. "Every now and then I remember why I don't usually like animals in the house."
"Oh, stop it," Lisa said with a laugh, crossing the room quickly. The instant she scooped up Ollie, the dog ceased her annoying new habit. "I have no idea what's gotten into her."
Dandy was perched on top of the nearest bookcase, and he hissed his disapproval at all the noise and upheaval.
Karen snickered. "Well, it seems as if the animal kingdom is out of sorts. Come on, we'll grab them some treats and sweet talk them into loving us again."
---
Re-visit the Heart Falls Happily-Ever-Afters to date.
Includes the short story:
Oh Baby!
A cute puppy, a wedding, and a baby. ← that's it. That's the blurb. Lol.
Also, three other weddings.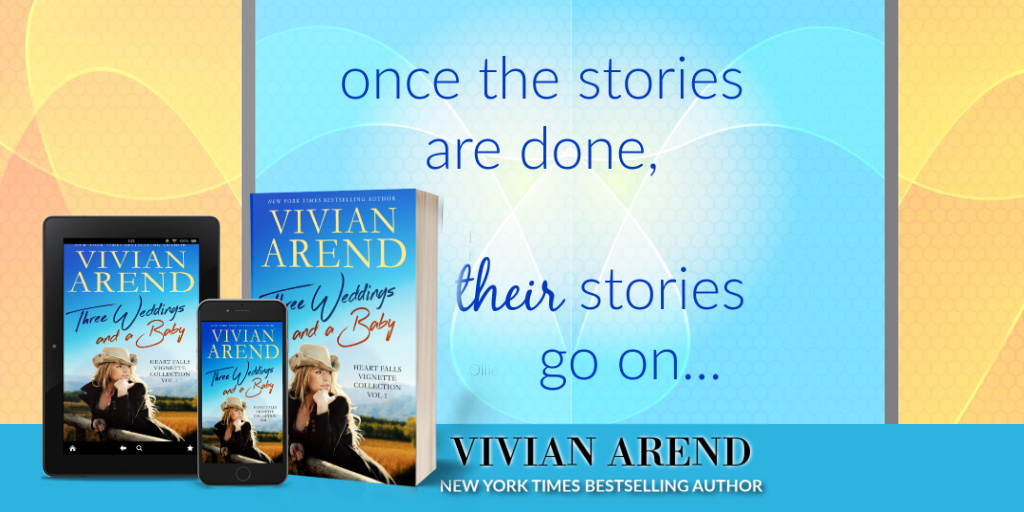 I've mentioned this once, but figured another update wouldn't be terrible. If your brain is working as well as mine is currently, then this might be brand new to some of you! Lol.
I'm excited to share that I've written a short story with the title of Oh Baby!
I've written vignettes to follow up with couples before, but with the way that the books have worked out timing wise, I had a fun story for Lisa and Josiah that didn't fit into the background of the next Heart Falls title. So, short story it is! Somewhere around novella length…
I've put OH BABY! plus three vignettes into Three Weddings and a Baby, Heart Falls Vignette Collection #1. This will be the ONLY way to get the short story.
That's the baby part!!!
The three vignettes are:
Surprised at Bootstomp Point: Caleb & Tamara
Heartfelt at Heart Falls: Walker & Ivy
A Wild Horse Wedding: Luke & Kelli.
It's ready for preorder now!
(Anyone really alert will notice this is a month later than I originally said, but we're good to go now!)
Here's a fun little tidbit with Ollie…and her people.
Release date: Sept 8, 2020
**
The group of them rang in the New Year, cheers rising skyward as the clock ticked past midnight. Everyone turned to their partner for a good-luck kiss, and as Josiah pulled her close, Lisa was definitely counting her blessings.
His lips against hers were warm and yet demanding. There was no getting distracted when he wanted her full attention. Except for—
An excited yip sounded by their ankles, and Josiah's mouth curled into a smile before he'd even finished the kiss.
Their foreheads touched briefly. "Somebody else wants to say happy New Year."
Lisa swooped down and grabbed Ollie, cuddling the pup between her and Josiah. "Yes, you need to be part of the celebration as well," she told the little terrier seriously. "Happy New Year, Ollie."
She pressed a kiss to the dog's head then lifted her gaze to meet Josiah's.
"Don't let your sisters see you do that," Josiah warned in a whisper.
"Too late," Julia whispered in return as she walked past, tugging Zach with her.
It wasn't much later that everyone left, headed back to their own homes. Tamara to a nine-month-old baby boy and the rest of her and Caleb's family she cared for as a full-time mom. Karen was off to the big ranch house she and Finn were renovating while getting the ranch up and running. Julia and Zach were the last to go, discussing ideas for building a place of their own as well dealing with their tasks for Red Boot ranch.
Lisa and Josiah put away a few things before leaving the rest for the morning.
"What do you think about starting the new year right?" Josiah asked the question with a voice that had gone deep as he crowded her down the hallway toward their bedroom cautiously, to avoid kicking Ollie, who kept pacing underfoot.
"That's a wonderful idea," Lisa said with great enthusiasm. She wrapped her fingers around his collar and smiled up demurely. "It's very important to get at least eight hours of shut-eye, so we should probably hit the sack right now and go straight to sleep."
He slipped their bodies into alignment and let her know exactly what kind of activity he had in mind. "Tease."
"Never." Lisa said softly. "I love you. Last year, this year, and every moment into the future."
Ollie was sent to her bed in the corner with a firm directive to stay. The agenda after that faded into loving. The night had been as close to perfect as possible from beginning to end.
Only when Lisa woke, sun shining across the bed and turning the first day of the new year into something shiny and bright, the problem that had been itching the back of her brain revealed itself crystal clear.
Everyone in her family had goals set for the coming year. Everyone had a job to do. Everyone.
Except her.
---
After the stories are done, their stories go on.
One of the great parts of writing a long, family saga is that I get to revisit characters who have already hit their happily-ever-after. Over the past couple of years I've written short vignettes revisiting characters from the HEART FALLS series. They're written specifically for readers who have already enjoyed the main stories. These visits with favourite friends were sent out in newsletters, and are available for FREE ON MY WEBSITE. 
But, for readers who want the stories on their ereader, I've made them available digitally for your convenience. Check first to see where each vignette fits into the full series if you want to avoid spoilers for books you haven't yet read!
AS WELL, this collection contains a BRAND NEW story for Josiah Ryder and Lisa Coleman. This collection is the ONLY place to read this story!
THIS COLLECTION CONTAINS:
1. Reading Order for the HEART FALLS series
The following wedding vignettes:
2. Surprised at Bootstomp Point (Caleb & Tamara)
3. Heartfelt at Heart Falls (Walker & Ivy) 
4. A Wild Horse Wedding (Luke & Kelli) 
And the novella:
5. Oh Baby! (Josiah & Lisa) 
A cute puppy, a wedding, and a baby. ← that's it. That's the blurb. Lol.
Longer cheater version:
Lisa and Josiah are thoroughly enjoying each other's company. He's got his veterinarian work; she's been busy stepping in to help her sisters and friends whenever and wherever they need. And they have Ollie, the sweet little terrier that can't get enough of either of her favourite humans.
But as one year ends, and a new one begins, Lisa can't help but wonder if there's something she's missing. What exactly is she supposed to focus on now that her extended family is settled and all her sisters are happy?
Ollie knows…
And a sneak peek:
6. Chapter One of ROCKY MOUNTAIN FOREVER
I hope you enjoy these visits to Heart Falls!
It's here! This book is full of fun days, and learning how to be a two-some when that's not what they expected. I couldn't have picked two better people for this adventure, though. Julia is what Zach needs, and Zach is what Julia needs, and once they both figure that out, they'll find they've built a relationship on a solid foundation.
In spite of having started under the strangest of circumstances!
I hope you enjoy this trip to Heart Falls, and the chance to visit with so many of our past friends.
It's really only the beginning…
---
Excerpt
You get this excerpt because it's got one of my favourite exchanges between Zach and Julia. They've just woken in bed together, naked and still a lot tipsy…
**
While Zach very much wanted to be involved with Julia, being naked with not much memory of what had happened the previous evening was not a good way to begin.
Add in the fact that a quick glance around the room showed two closed suitcases still stacked against the wall, which meant if they had done something that they didn't remember, dear God he hoped not, they would've done it without protection.
Julia blinked a few more times, gaze fixed on his. Her nose wrinkled as she considered his words.
Her lips curled into a perfect circle as understanding fluttered in. "Oh. Oh."
She glanced to the side for a moment, her body tightening from top to bottom. Unexpectedly, she relaxed, releasing a breath hard enough it made her long hair wave.
A very decisive headshake followed. "It's okay. Whatever we did get up to last night, we didn't have sex."
Oh, really? "And you know this how?"
Her lips twitched. "Wait. I suppose we might've had sex, but it's very unlikely. Tell me, Zach. How big is your penis?"
The unexpected question floored him. "Uh…"
Her smile widened. "And on that note, I'm taking a shower. And finding some clothes. Then I want bacon. Lots and lots and lots of bacon."
He was still reeling from the penis question.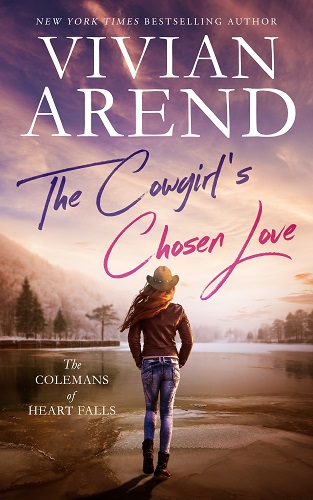 Ebook
Print
Finishing up the Whiskey Creek Coleman stories is bittersweet. I first got to know three of these ladies way back in their Rocky Mountain House days. Seeing where they've come to and knowing that each of them, Julia included, now have a place to call home with men who truly appreciate them and love them unconditionally—
It's been worth every tear along the way.
Although I wouldn't call this an emotionally tough book. I mean, starting out with a fake-relationship, sliding onto a drunken wedding. Add hot yoga (sort of), a lot of dancing, and a dad who shows up at exactly the wrong moment…
I'll stop there, and let you enjoy the story. Here's to falling in love and Elvis songs.
And here's to teasing like only sisters can provide. Enjoy a short excerpt.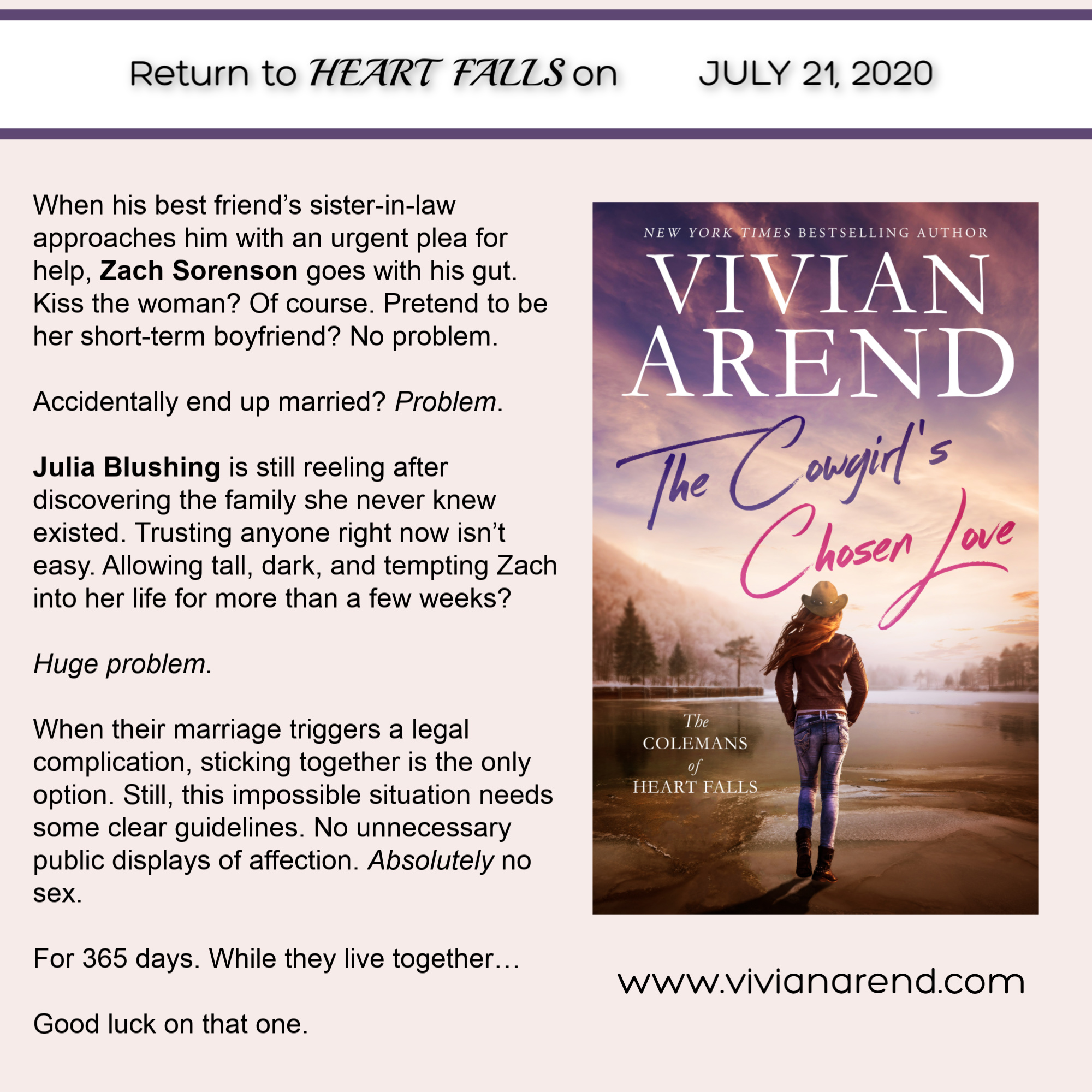 **
Julia's sisters exchanged a glance before Karen took charge. "Considering that sentence didn't start with do you think, now is when we start guessing."
"Do you think…Rose would mind if I took Zach dancing?" Lisa asked sweetly, before qualifying. "The I in that statement being Julia, of course."
Karen responded instantly. "Rose wouldn't mind at all. She insisted she was done with him."
Lisa snorted. "That just sounds so wrong. But you're right, she did say that."
As embarrassed as Julia was at the twist in the conversation, the teasing from her sisters was gentle-hearted. Julia's cheeks heated, though. "That's not what I was going to ask."
Lisa ignored her, speaking directly to Karen. "Do you think…Zach wants to take Julia dancing?"
"Is that what they're calling it these days?" Karen quipped.
A snort escaped Julia, and her sisters turned happy faces toward her, leaning in to speak in a conspiratorial tones.
"You like him, don't you?" Lisa asked.
"Of course I like him." Julia was shocked at the question. "He's Finn's best friend, which means he has to be awesome or else that wouldn't have happened. Plus, he's really nice to Karen."
"Pshaw." Karen waved a hand. "Zach's nice to everybody. He's just plain nice."
A mischievous smile slid over Lisa's face. "You know the nice ones are usually the dirtiest in the bedroom."
"Lisa." Both Julie and Karen spoke in a scandalized tone at the same moment, and suddenly the guys glanced over as if very interested in their conversation.
Karen stuck out her tongue at Finn. "Never mind. Nothing interesting happening over here."
Julia met Zach's gaze and wondered what she'd gotten herself into.
**
When his best friend's sister-in-law approaches him with an urgent plea for help, Zach Sorenson goes with his gut. Kiss the woman? Of course. Pretend to be her short-term boyfriend? No problem.
Accidentally end up married? Problem.
Julia Blushing is still reeling after discovering the family she never knew existed. Trusting anyone right now isn't easy. Allowing tall, dark, and tempting Zach into her life for more than a few weeks? Huge problem.
But when their marriage triggers a legal complication, sticking together is the only option. 
Still, this impossible situation needs some clear guidelines. No unnecessary public displays of affection. Absolutely no sex. For 365 days. While they live together… Good luck on that one.