New Release
Tag
The Extreme Adventures series is being re-released with sexy new covers! This series is the first adventure romance series I wrote, but these are a lot sexier than the Adventure: Search and Rescue series. If you like skiing, climbing, and smokin' hot romance, these are the books for you!
Falling, Freestyle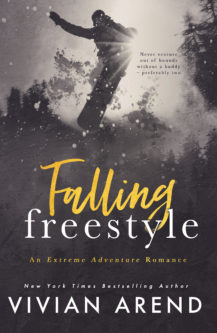 Never venture out of bounds without a buddy—preferably two.
Dara's past four incredible years have been lived to the fullest. Along with her best friends, Kane and Jack, she's left no local wilderness unexplored, no ski slope unchallenged. Yet lately she wonders why they've never seen her as more than a buddy with breasts. When—or if—either man will cross that unspoken line.
It's a line Kane eyes harder every day. Since high school, he and Jack have shared everything. A condo, vacations—and their best girl. Kane's ready to get serious about his wilderness school and outfitter business, and that includes putting down roots. Preferably with Dara.
Wary of the men who've recently been sniffing around Dara, Jack has a growing sense that he or Kane better make a move soon, or they're going to lose out on their perfect match. Question is, who does she prefer…and who's going to bring their easygoing trio to an end?
Overhearing the boys arguing over her, Dara's floored—and torn. Choose between them? No way. Drastic measures are called for, a plan for their annual holiday getaway that will clarify her feelings once and for all—or lose everything in a sexual storm of whiteout proportions.
Previously published in 2010.
Pre-Order: Kobo, iBooks US, iBooks UK, iBooks CA, Barnes & Noble, Amazon US, Amazon UK, Amazon CA
Rising, Freestyle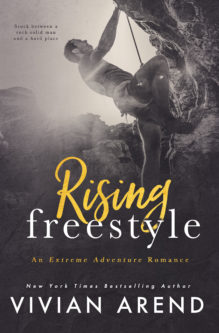 Stuck between a rock-solid man and a hard place…
Melanie Dixon's body may have recovered from a horrific climbing accident, but her nerve is long gone. So is the natural enthusiasm for life she took for granted. Tired of being scared, beyond ready to conquer her fears, she pulls up stakes and moves to her brother's new hometown to start over. Her first step is the most terrifying—to tackle the wall at the local climbing center.
Derrick James is mesmerized by Melanie's dark beauty, and equally impressed with her climbing abilities and determination. Watching her re-tune rusty skills spurs a desire to partner with her—on and off the ropes. Melanie's a compelling mix of wit, sensuality and vulnerability, and it's his delicious task to convince her the scars on her body are no match for the heat rising between them.
Then a man from Melanie's past shows up, pushing their relationship to the edge. Nathan King wants photographs for a "where are they now" series, but his side agenda is more personal in nature. A proposal that brings her out of her sensual shell and onto a precarious sexual ledge. Where trust is crucial…and too easily shattered.
Previously published in 2011.
Pre-Order: Kobo, iBooks US, iBooks UK, iBooks CA, Barnes & Noble, Amazon US, Amazon UK, Amazon CA
Today is the release day for WILD PRINCE! Get your copy of this fun and sexy story about a thief, a mystery, and fated mates.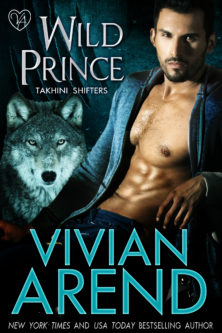 Purchase:
Kobo | Barnes & Noble | iBooks US| iBooks UK | iBooks CA | Amazon US | Amazon UK | Amazon CA
Excerpt:
She looked him over slowly, considering her next move.
His face had that classic movie-star structure. Dark brows, haunted expression, as if he was thinking deep thoughts regarding how to save the world. His solid muscular body was thick in all the right spots, like his biceps and chest, narrowing in at the waist to trim hips, and she really wanted to slip her hands into his back pockets before rubbing herself all over him.
If she had a type, he was it.
A layer of scruff covered his chin, and she was tempted to reach over to see if it was soft or scratchy—she hadn't met many shifters with facial hair.
Intriguing.
He backed up slightly. "What're you doing?"
Oops. She had moved forward on the hard, wooden seat, one hand lifted toward his face. It was too much fun to resist. "Wait. You have something right here…"
Her palm ghosted over his chin and cheek. Hmm, interesting. A combination of scratchy and soft. She wondered what it would feel like if he rubbed it over her skin—especially between her legs. She hummed in approval at the naughty thoughts.
He scrambled backward, the chair falling behind him as he shot to his feet. "Don't do that."
The sharp cut of pain in her chest was unfamiliar, and strong. Being underestimated she was used to.
Being run away from as if she were some kind of monster?
Dani fought back with sarcasm, folding her arms before she could stop herself. "I wanted to see what it felt like. I wasn't going to hurt you."
"Of course you weren't. You're a sweet, innocent girl—you can't hurt me."
Fury struck out of left field. Sweet and innocent?
Fuck. Him.
Dani shot to her feet. "You take that back."
Confusion twisted his face. "You can hurt me?"
She wanted to stomp her foot, but wouldn't, because—obvious reasons.
The fourth book in the Takhini Shifters series, WILD PRINCE is coming in about a month!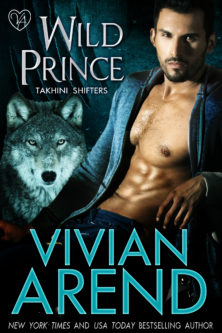 Pre-Order:
Kobo | Barnes & Noble | iBooks | Amazon
Blurb:
Wolf shifter Cole Masterson has been waiting impatiently for his future to arrive. The prophecy declared at his birth seems like pure gibberish, but he's still spent the past thirty-three years trying to prepare for whatever's coming. When his mate finally arrives, her appearance—on a skidoo stolen from him, no less—triggers a cascade of events he's not sure he's ready for.

Dani Neville thought the covert training offered by the leader of an ultra-secret shifter association was her only escape from being stuck forever on an isolated island with her bear-shifter clan. But when her first assignment goes awry, and she ends up being chased through the wilderness by the sexiest, growliest wolf she's ever met, Dani begins to wonder if her goals were big enough.

Suddenly Cole's got to deal with the most delectable thief he's ever had the misfortune to meet—a woman who's also his fated mate, and years younger than him. Dani's got to figure out if being a ninja wannabe is her true desire, or if the chance to stay with her growly wolf is worth fighting for. Meanwhile, a prophecy that's been waiting for years steamrollers them toward their ultimate destiny.

Not everything is as it appears…not even fated love.
Mate…?
The temptation was impossible to resist. He lowered his face to the crook of her neck and inhaled deeply.
A massive shiver shook her teeny frame. "Don't hurt me," she begged. "Don't bite me."
Fear turned her voice ragged, and her panic was nearly enough to make him release his grasp.
Nearly—
His nose told him her tone of voice was the trick because, other than that initial quiver, her entire body wasn't saying terrified. Instead she'd used the motion to loosen his grip and now she was wound up with the tension of a warrior waiting to spring a trap.
"Don't tempt me," he growled. Biting her. Jeez, just the thought made his body react. "If I want to, I damn well will."
For a split second she held on to her act before making a rude noise. "Your response was pretty good," she admitted. "Very gruff and scary. You win this round. Now do you think you could put me down, Mr. Mouse?"
What the hell was this shit? "Mouse?"
He didn't move.
She stared back, examining his face carefully. All he could really see of her was the tip of her nose and a glimmer of light off her eyes. The oversized hood hid the rest of her face in the shadows, but Cole's nose had told him all he really needed to know…
His mate.
She shook her head slightly. "Okay, you're bigger than the average mouse. That would explain why you were making more noise than I expected. But we could have a regular conversation like human beings. There's a perfectly good table over there, with chairs."
Cole refused to let her go. It had taken too much energy to find her, not to mention he was enjoying being pressed against her. "Not human," he pointed out.
Catch Up
Catch up on the Takhini Shifters series now, to prepare for the release of Cole.
Today is the release day for A RANCHER'S HEART! If you didn't get the copy from iBooks, you can now download on all retailers. (*GooglePlay coming soon!)
Purchase
iBooks US | iBooks UK | iBooks CA | Kobo | Barnes & Noble | Amazon US | Amazon CA | Amazon UK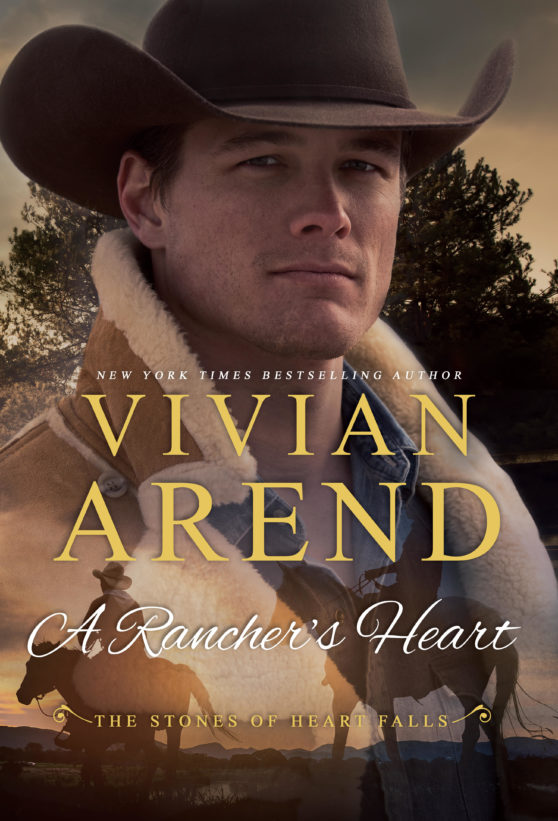 Caleb's expression might be unreadable, but his eyes—

He couldn't hide the fire burning in his gut. Lust, not anger.

It appeared his little lesson had backfired.

Inspiration hit—a bad, wicked idea that was so wrong. So very wrong, but now that it was fully formed, stopping was damn near impossible.

She needed to turn away.

Need to grab on and take a bite.

God, she needed a bite of Caleb Stone.

Do it. Take a bite.

Fine, it was a bad idea, but she'd blame the stupidity on the heat in her veins, bubbling now with sexual frustration as well as anger.

Tamara lifted her chin and looked him in the eye as she adjusted position. Closer. Closer, until she could skim her fingertips over his impossibly hard chest. Circling and teasing the light dusting of curls and the tight surface of his nipples.

"I'm sorry, baby. You're right. I misspoke. You are just fine without a woman. Your bed isn't cold and lonely." As she spoke she slid her hand down. Slowly, lower, until her thumb stroked the thick ridge she found waiting, pressed to the front of his jeans. "You don't spend the night with your fist wrapped around your cock."

Caleb swallowed hard. His pulse raced at the base of his throat.

"Tamara—" The word was a harsh growl.

But he didn't move away.

"Or maybe you do. Taking care of yourself—I'm sure you take care of yourself no problem." Tamara unsnapped the button on his jeans. He grabbed her wrist. "Not that I blame you. I do the same thing."

The sound of his zipper being lowered meshed with a dangerous rumble deep in his chest. He let go of her hands, and then, oh my God, he was touching her. Skimming his palms up her waist, slowing as he passed her breasts.

She ached. She waited, no longer angry, but on fire with desire.

Caleb sucked for air, chest heaving as he fought—for control? For strength? He slid his fingers into her hair and tightened, lifting her face.

Then his lips crashed down and he was kissing her senseless.
Purchase
iBooks US | iBooks UK | iBooks CA | Kobo | Barnes & Noble | Amazon US | Amazon CA | Amazon UK
I have a surprise for the iBooks readers!
A RANCHER'S HEART is live early!! That's right, you can now purchase Caleb and Tamara at iBooks and start reading RIGHT NOW!
iBooks US | iBooks UK | iBooks CA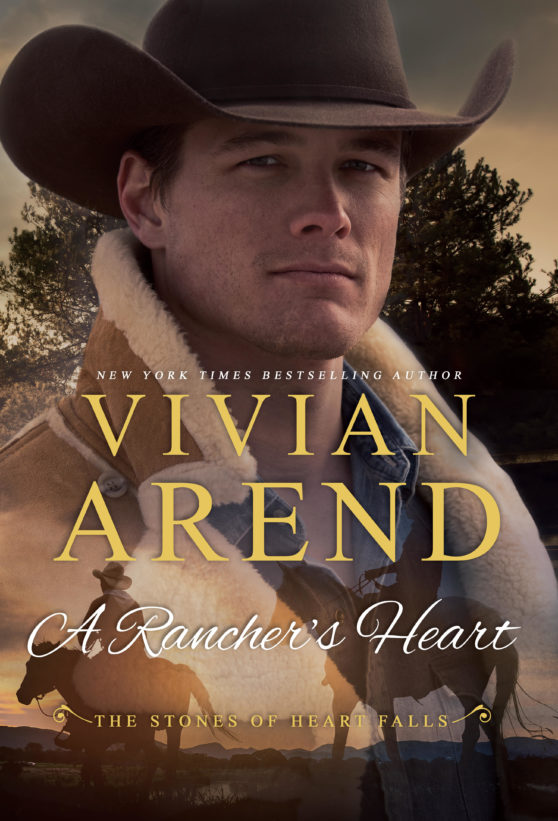 He grabbed her by the wrist, words coming out quietly. Softer, but the intensity went up. "Are you getting some kind of sick entertainment from dragging this out? Because I swear I will pull you across my knees and spank your ass. Get on with it."

Sudden silence filled the room. A hot beat lingered in the air, full of sexual tension. Her pulse raced under his fingertips and his mouth went utterly dry.

Forbidden images. Deliciously dirty thoughts.